Catalina has long been a great summer vacation destination for many Los Angeles residents and tourists alike.
See Image: courtesy of LA Art Party
A one - two night stay can work wonders on eradicating the stress of one's busy life, so I was quick to say yes when my boyfriend suggested we take advantage of a rare leap year special offered by the Hermosa Hotel.
A one night stay was $29 plus $29 each way per person on the Catalina Express, a fairly large fast-moving boat which transfers visitors from one of three ports near Los Angeles to the island. My boyfriend and I left out of Long Beach for our quick getaway to the Catalina, saving over $100 on our great escape. When planning your trip, do forget to factor in the $17 per day cost of parking at the boat terminal.
Approximately 2 hours after leaving Long Beach we arrived at the Hermosa Hotel. At first glance the room was simple, clean, but small. Next we noticed the bathroom was situated between two rooms. It was a shared bathroom.
Little did we know we would soon be sharing something else. Our room was located in the front of the building on a busy street. Just outside the room was a shared balcony, accessible to all of the Hermosa hotel guests. It turns out that the Hermosa commonly hosts large groups of scuba divers, so the shared balcony is great for those groups.
Since we had just gotten off of the boat to Catalina along with several other hotel guests, we were immediately taken aback by seeing two to four people right outside our window. They too had just arrived and were checking out the hotel as well as its occupants. That's when it became apparent we would soon be putting on a show. The vertical blinds were missing sections which would ultimately compromise our privacy. We came to understand the value of the shared balcony for large groups, but the broken blinds could easily have been replaced with drapes.
Basic
ally since several of the individual blind slats were missing, any one standing on the porch (which remember was open to all hotel guests) could peer into the window and enjoy the show. I looked at my boyfriend and said "well, if you're an exhibitionist, this is the room for you." Fortunately, my boyfriend is quite handy and was able to rig up a home made curtain using the bedspread.
The employees running the Hermosa were quite pleasant but had no idea how to fix the situation, other than posting a "wet paint" sign on the door of the balcony to deter entrance. Be aware, we did not make a big stink of it with the front desk ( so there is no way to tell what would have happened if we did). The staff was kind enough to recommend where we could find an inexpensive cup of coffee as well as directing us to other points of interest. They also held our bags after we checked out, so we could explore the island.
Again the staff was great and I suspect other rooms (with a private bathroom and working blinds or at least rooms with curtains) would allow for a more pleasant stay. We were told cottages were available at the same price for the leap year special but on a first come basis.
If you are bothered by street noise this also may not be the hotel for you (unless a room situated in the back of the building was requested). There are more expensive hotels located off the busy streets as options for those who need a quite setting. I personally had no problem with being close to the busy street (unlike my travel companion) but I am originally from New York City and feel at home with the lively city sounds.
Se
e Image: By Richard Bilow
So if booking a room at the Hermosa Hotel, they do offer affordable specials...just remember to ask questions. There are great deals to be had in the winter season. Just make sure you don't book room # 15 unless you're into that sort of thing!
Hermosa Hotel, 131 Metropole Street, Avalon CA 90704, 310-510-1010,
http://www.hermosahotel.com
There is no denying that everyone loves to eat, and as an avid foodie, fine cuisine is consistently at the top of my list. However, when I decided to head to Bonaire (in the Dutch Caribbean) for a scuba diving trip, little did I know that the dining options available on this sleepy island would be so fantastic.
Image: shot from Ingridients; Photo by Richard Bilow
Ingridients is an upscale restaurant located at the Buddy Dive Resort. Situated above the dock, it offers panoramic views of the Caribbean Sea. The menu features a wonderful array of dishes rooted in Mediterranean style cooking.
We arrived just in time for the sunset. I ordered a Terrasses du Sud Merlot from Chili. This is a delicious full-bodied red with a fruit forward flavor of black currant and a hint of licorice. My companion ordered the Bonaire Blond. Our server explained the beer is a local favorite and is brewed right on the island. The pale beer is fermented and contains yeast which sits at the bottom of the bottle. The beer was poured first into a tall glass, then the yeast was placed into a shot glass, allowing the customer to have control over the beer's flavor by adding more or less of the yeast.
We were encouraged by our waiter to try the Parmesan Truffle Pasta (Tagliatella, truffle, and Italian Brandy). It was a great choice it was not only delicious, but it was prepared at our table in a giant wheel of Parmigiano-Reggiano cheese with truffles and flaming brandy.
Image: Parmesan Truffle Pasta; Photo by Richard Bilow
Another delightful appetizer was the Lobster and Scallop Salad - a delicate union of seafood and greens brought together by a sublime cadushy liquor and lime dressing served with a traditional Dutch kletskop.
Our entrees - Gamba's al ajillo and the Blue Marlin - continued to impress us. Gamba's al ajillo features giant garlic flavored prawns with head on, along with aioli, shrimp infused ketch-up and premsela. The Blue Marlin (locally caught) was delicious - seared and served with a traditional antiboise. Chef Daan Scheffers van Soelen came out to say hello as we praised him for the terrific meal.
Image: Gamba's al ajillo (foreground) Blue Marlin and steak; Photo by Richard Bilow
The following day, we decided to spend the afternoon in Kralendijk, the main port of Bonaire. We stopped for some lunch at a casual eatery called Rumba Café. We shared a delicious Greek salad and some tasty pizza. Then we did a little shopping and picked up some of Bonaire's biggest export - salt.
For dinner, we popped into a scenic restaurant named Karel's Beach Bar, adjacent to Cappuccino, located at the edge of a pier. It offers a romantic setting and brings to mind the feeling of dining in the middle of the ocean. Owner Karel J.C. Visser has three restaurants in close proximity...the two adjacent restaurants (on the pier) and Zeezicht Restaurant located directly across the street.
Cappuccino & Karel's Beach Bar; Photo by Richard Bilow
I had a chance to meet the owner and find out about his background. Karel J. C. Visser was born in Bonaire in 1987 and is a fourth generation owner of this business. His great grandfather started it in 1929, and it has remained in the family ever since. "Back when Zeezicht was in my grandmother's hands, it was one of only three restaurants in town," said Visser. "It was always packed with people...my father was in his twenties, and he had the idea to create a bar so people could wait at Karel's to be seated. Karel's became so popular that it outgrew Zeezicht very fast. In 2002, my father purchased Zeezicht from my grandmother and started serving food on the pier."
Visser said he loves being a business owner on Bonaire and will be opening a new restaurant called Islander soon. "My favorite thing about Bonaire is the ocean. It is literally my backyard...everything we do has to do with the ocean...even work." Needless to say, he is also a certified scuba diver for over fourteen years.
I ordered a Cavazza merlot from Italy, while my dining partner chose a Goose Juice (coconut rum, triple sec, pineapple, and lime juice with curacao). I stole a taste of the yummy refreshing blue fruity cocktail.
Image: Mahi Mahi and Shrimp, Chantal Seafood kabob; Photo by Richard Bilow
We began with a house salad and then shared two entrees. One was the special of the evening...Mahi Mahi and Shrimp was prepared in a delicate garlic sauce...so fresh and delicious. The other was the Chantal Seafood Kabob, exquisitely presented on a metal skewer dangling vertically. The dish sported grilled shrimp, fish, conch, onion, tomato, and bell pepper.
Although we were quite full, our server insisted that we try the dessert special. The sweet sensation included strawberry ice cream topped with a fried wonton drizzled with a tart, yet sweet green apple sauce.
http://www.karelsbeachbar.com/
Image: Dessert Special at Cappuccino; Photo by Richard Bilow
At this point, I was truly impressed with the fine dining on the island. However, if you are interested in a casual local favorite and amazing BBQ, be sure to stop into Babbejan's. It is only open on the weekend and sometimes it's a long wait for a table, but it is definitely worth it. While my travel companion and I waited for a table, we started talking to a local couple having a drink, as they waited for their to go order. Since the restaurant has become so popular, ordering to go is apparently the preference of many locals.
Rumrunners is another waterfront restaurant located at Captain Don's Habitat. The view is magnificent and just before sunset was the perfect time to arrive. Offering an eclectic menu with a variety of specials, the restaurant is known for its pizza. We ended up sharing a salad and of course, a pizza. It was delicious and can be customized at request.
https://www.habitatbonaire.com
/
Last, but not least, we had a spectacular meal at Harbour Village Beach Club's restaurant La Balandra which is open to people staying at the exclusive resort. Here, one can dine on an antique Spanish ship on the water, next to the resort's private beach.
We started with Mai Tais (white rum, dark rum, amaretto, triple sec, pineapple, lime), and moved on to wine.
Image: wahoo sashimi appetizer; Photo by Richard Bilow
The first course was a true delight. Beautifully designed, the delicate wahoo sashimi (caught that day) melted in my mouth. It was marinated in soy, lime and olive oil, and was served with wakamé and wasabi cream. Vitello Tonato, another appetizer was also fantastic and featured antiboise and pine nuts.
The main course took us on a trip to foodie heaven. It was a perfect trio of taste - shrimp, filet mignon, and wahoo with a white and red wine sauce and seasonal vegetables. Delicious!
Image: shrimp, filet mignon entree; Photo by Richard Bilow;
Now it was time to truly indulge ourselves. Who can say no to dessert when it offers three homemade exquisite treats such as Key Lime Pie, Flan Caramel, and Coconut Cheesecake?
http://www.harbourvillage.com
Needless to say, my week in Bonaire featured scuba diving, hiking, and sightseeing...in addition to enjoying unparalleled cuisine. If you enjoy fine dining along with scuba diving, kite surfing, and more – Bonaire offers it all!
http://www.tourismbonaire.com/
California is home to an incredible amount of great restaurants ...If you love mexican food, head to Lula Cocina Mexicana. This past July (2016) the restaurant celebrated twenty five years. Although Geraldine Gilliland, owner of Lula Cocina Mexicana, is originally from Belfast, Northern Ireland, she was always intrigued with Mexican cuisine. "One day, as I was casually flipping through the latest edition of Bon Appétit magazine, I stumbled upon an article that profiled the best female Mexican chefs of the time, including Lula Bertran, explained Gilliland. "Now I've always had a lot of moxie, so I just went ahead and called up the editor and asked her which of these chefs she would recommend to teach me true Mexican cooking. Without missing a beat, she told me to call Lula. The next thing I knew, I was standing in a farmers market in Mexico City with Lula herself, picking out produce, touring the city, and learning to cook in her home!"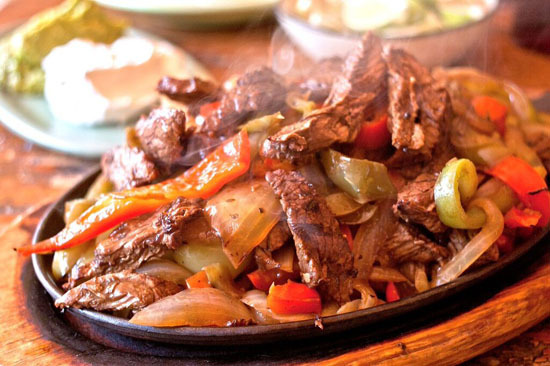 Photo courtesy of Lula Cocina Mexicana, Beef Fajitas
It was during this first trip to Mexico City that Gilliland's vision for the restaurant first began to truly come alive. "I had fallen madly in love with the sights, sounds, and colors of Mexican culture and knew I would incorporate that beautiful levity into the restaurant, mimicking the designs of my favorite architects Luis Barragon & Ricardo Legoretta." Gilliland's husband, Theodore Lonsway, owned an antique store at the time. "Together, with our vision - and the help of a dear friend and famous local architect, Michael Bedner - we designed our dream restaurant, on a shoestring budget, of course!"
Some of its most popular dishes include Fajitas, Baja Fish Tacos, Shrimp Ceviche, Tiger Shrimp Tostada and lots more.
Outside of the restaurant business, Gilliland is passionate about the protection and rehabilitation of abused and abandoned animals; a cause for which she frequently hosts and produces charitable activities and events. In 2011, Gilliland launched Chiquita's Friends, a non-profit dedicated to this cause and in it's honor, all of the proceeds from this book will go towards the mission of helping abused and neglected dogs in the Los Angeles area. Find out more, on the nonprofit's website -
http://chiquitasfriends.org/
For additional info on Lula Cocina Mexicana, visit
http://lulacocinamexicana.com
It was a busy Tuesday at the LAArtParty office. Each Monday,
we notoriously argue about which events to choose that week out of the 30-50 we receive weekly…it's gotten way out of hand. That particular week…we were still arguing about which event would be the Pick of the Week...and it was already a Tuesday afternoon. We had already moved on to the planning of the layout stage for the week's post...while a certain staffer (you know who you are), could not let our POW choice stand.
My videographer, Steve DePena stopped in and somehow seduced us all into going to Boardwalk 11 to sing karaoke. Now as many people know, I've been singing all my life and am still performing in about four bands, but karaoke is different (its actually much harder). I've always been a bit shy about doing it.
I s
aid to Steve…"It's Tuesday night, are you sure they are having karaoke tonight"…"Yes," he sighed, "they have it every night. He added that Boardwalk 11 also has a great happy hour. SOLD! Mama likes to eat for a good price...and it sounded like a great way for our crew to let off some steam. Next thing I know we are headed to Boardwalk 11 in West LA to sing for our supper.
It was a Tuesday night (early evening), and I was stunned as I watched the place fill up … singers were signing up, customers were bustling in and the restaurant became alive. Apparently this is THE place to do Karaoke. After hanging by the bar, we finally slumped in a booth started ordering more drinks (wine for Mama) at very nice happy hour prices and then we ordered a barrage of food from the HH menu.
We
just shared a bunch of different items…spinach dip, chicken fingers, mozzarella sticks, and chicken wings. I think we ordered every flavor (yes we were hungry) - sweet chili sesame, honey BBQ sauce and spicy buffalo…really tasty. One more item, was the hit of the night - Mac and Cheese Eggrolls - these tasty buggers were amazing (though not so good for my thighs). Who would think to wrap mac and cheese in a wonton and deep fry it? It was served with buttermilk ranch dip…so good we ordered a second.
By this time the wine had kicked in and I actually got up to sing…not once but twice. Steve got up several times and crooned like Sinatra. It was pretty impressive, of course it could have been that happy hour wine I so enjoyed that made him sound astounding. Needless to say, after a long day, our LAArtParty team enjoyed a much needed fun night out.
Head to Boardwalk 11 for a great time. Happy hour runs Monday thru Fridays but you can do Karaoke every day of the week. Boardwalk 11 is located in West LA - 10433 National Boulevard, LA, 90034; 310.837.5245;
http://boardwalk11.com/